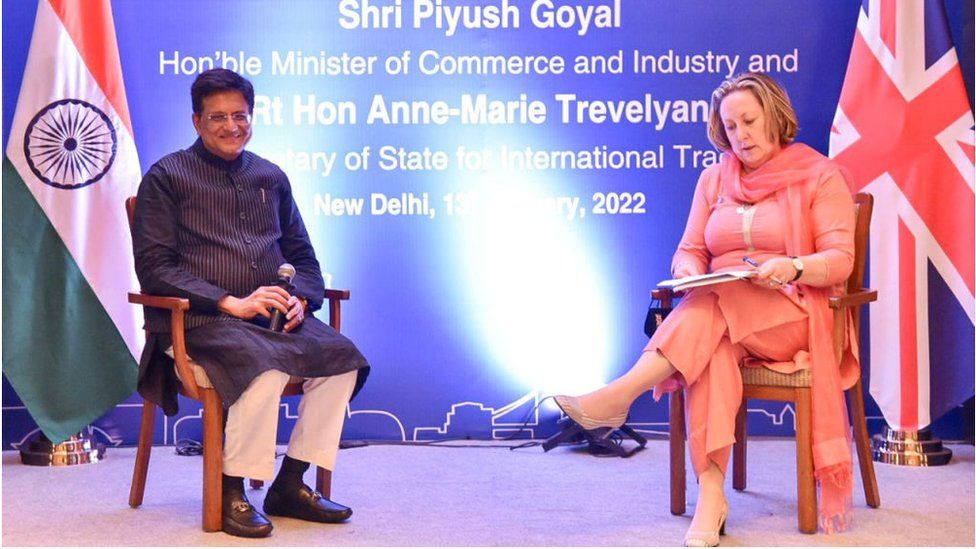 Britain and India have concluded their first day of talks about a potential free trade deal in New Delhi.
The aim is to have an agreement signed by the end of the year that could boost trade by billions of pounds.
Indian trade minister Piyush Goyal and his UK counterpart Anne-Marie Trevelyan said there could be a limited agreement in the next few months.
The UK has made a post-Brexit deal with India one of its priorities as it looks to tap into fast-growing economies.
"This is an opportunity that we must seize to steer our partnership along the track of mutual prosperity for the decades to come," Ms Trevelyan said.
Britain said the deal could almost double British exports to India, and boost total trade between the countries by £28bn per year by 2035. Total trade in 2019 was worth £23bn.


Trade negotiations with India are not for the faint-hearted.
But with no progress on a free trade deal with the US, and none expected in the foreseeable future, the formal start of talks with India, being announced in New Delhi on Thursday, is the biggest negotiation the UK government will launch this year.
India is on course to become the third largest economy in the world by 2050, and the government hopes UK-India trade will double over the course of this decade.
Trade Secretary Anne-Marie Trevelyan calls the prospect of a free trade deal with India "a golden opportunity" and there are certainly huge commercial prizes up for grabs.
But India, with so many vested and vulnerable interests to protect, has always been reluctant to liberalise.
The EU has been trying for years to reach a meaningful deal with India, with little success. Australia too, has been working on a deal for a decade.
Areas such as government procurement policy and the trade in services are particularly difficult.

India wants more opportunities for Indians to live and work in Britain, and any trade deal could involve negotiations on relaxing rules and lowering fees for Indian students and professionals going to the UK.
However, Mr Goyal said both countries will not make such issues a necessary condition for a trade deal.
"Nothing is necessarily a deal-breaker in this agreement," Mr Goyal said. "And I will not think there is any way for anybody to worry about issues which are sensitive to any country, because both sides have agreed that sensitive issues are not our priority," he added.
UK government ministers want British firms to be able to sell more products such as whisky to India.
They also want India to become a bigger buyer of UK green technology and British services.