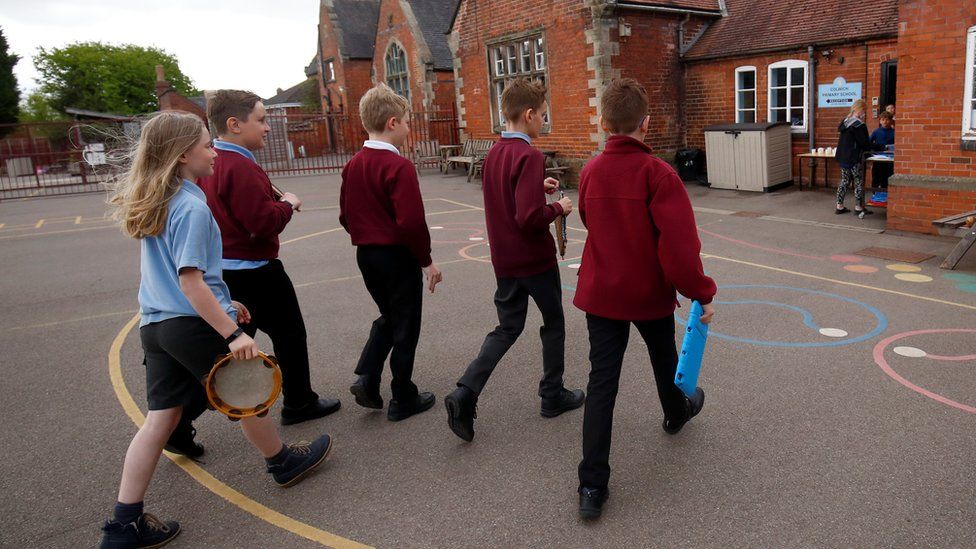 Nearly 1.5m pupils were absent from classes in England's primary and secondary schools last week, a snapshot of one day's official data shows.
The weekly Department for Education figures show about 840,000 were off for Covid-related reasons and a further 630,000 were absent for other reasons.
It means a quarter of secondary pupils were out of class on Thursday last week, and 15% of primary pupils.
Teachers' leaders told MPs they were hugely concerned about these absences.
Kevin Courtney, joint general secretary of the National Education Union, told the Commons Education Select Committee on Tuesday some of the pupils absent for non-Covid reasons would be suffering from mental health issues.
He warned others may be avoiding school because they believe they are destined to fail after a disrupted academic year.
"It's very hard to engage children who think it's a guaranteed fail at the end of their school career," he said.
And he called for more outreach work to bring missing pupils back to school.
Nick Brook, deputy general secretary of the National Association of Head teachers, said the attendance figures were "grim reading" and showed DfE had lost control of situation.
He said: "Yet again we have seen a further increase this week in the number of pupils absent from school as a result of Covid-19."
'Relaxation of rules'
"The government's wider narrative around relaxation of safety measures appears to be at complete odds with the reality in schools right now."
He added that simply changing the rules around self-isolation was not a proper solution. From mid-August under-18s who have come into contact with potential Covid case would not be required to isolate.
Mr Brook said: "The government must take urgent action to drive down case numbers amongst school-aged children and implement alternative safety measures in key areas such as ventilation."
There are also concerns that some pupils' families are taking them out of school because they want to go on an early holiday or do not want to miss a holiday due to having to isolate.
The attendance figures have been adjusted to exclude pupils in Year 11 and Year 13 who are off-site, having finished exams, the DfE said.

Head teacher's view: 'Holidays are booked'
Patrick Ottley-O'Connor, executive head teacher of Westhoughton High school in Bolton, fears that the school absence figures will get even bigger in the last days before the summer holidays.
"Anecdotally, from the students, we know some parents are just concerned they are going to lose holiday because of having to isolate," says Mr Ottley-O'Connor.
"We're hearing conversations that those holidays are booked. Conversations that we need a holiday and we're not going to stop going on holiday.
"Some students have even said that their parents have turned off the their track and trace."
Before the Easter and spring half term holidays, his school saw an unexplained dip in attendance, says Mr Ottley-O'Connor.
Although his school does not break up for the summer holidays until 23 July, he thinks other schools that finish next week, will see start to see fewer pupils in classes from now.