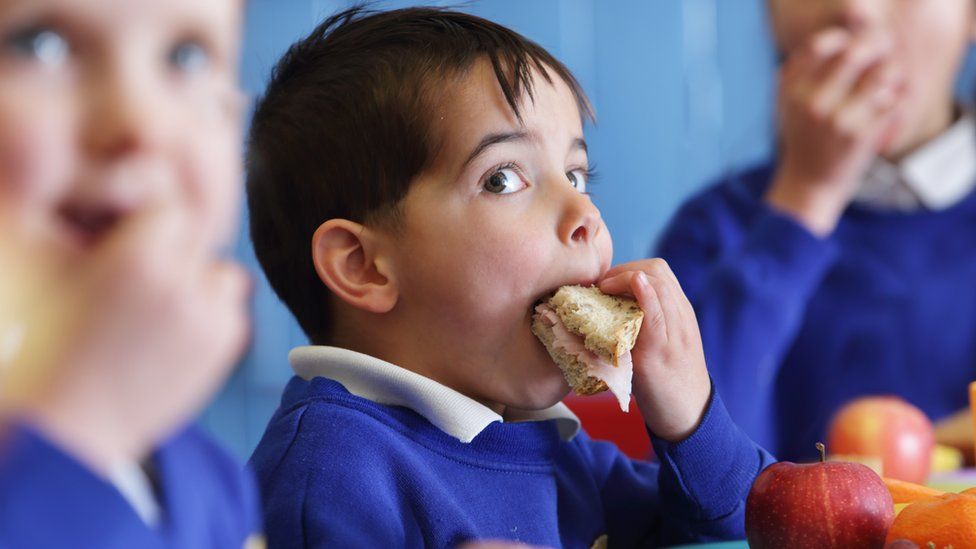 Funding for "holiday hunger" payments this summer is still not in place, according to the Department of Education (DE).
Agreement from the Stormont Executive is needed to provide £22m a year so the scheme can help about 98,000 children.
However the executive is not currently meeting and .
A DE spokesperson said the scheme continuing depends on the "necessary funding being made available".
Executive ministers had to pay for free school meals for eligible children in Northern Ireland during school holidays.
Families received payments of £27 per child every fortnight, in lieu of school meals during holidays.
But according to the Department of Education, that funding only covered "school holiday periods, including mid-term breaks between Christmas 2020 and Easter 2022".
A draft budget had proposed extending the school holiday food grant in Northern Ireland until 2025 at a cost of £22m a year.
But the executive collapsed in February before a budget for 2022-25 could be agreed.
The assembly is also in limbo after , meaning it cannot function.
The DUP said it had taken the action to send a "clear message" about its opposition to the Northern Ireland Protocol.
Earlier this year, a senior departmental official said that executive agreement was needed to beyond Easter 2022.
In the absence of an executive, Education Minister Michelle McIlveen may be able to write to other ministers to get their agreement to fund the scheme before school summer holidays begin at the end of June.
In February, Communities Minister Deirdre Hargey said she would make a similar move in order to after the executive collapsed.
When asked about the holiday hunger grant, a DE spokesperson told 365Nainanews News NI it was considering how this might be taken forward.
According to the most recent data from the department, more than 98,800 children in Northern Ireland were entitled to free school meals on 2021/22 - about three in 10 of all pupils.
The footballer for similar support to be provided to children during holiday periods in England.
Meanwhile, the Welsh government to all primary school children by September 2024.