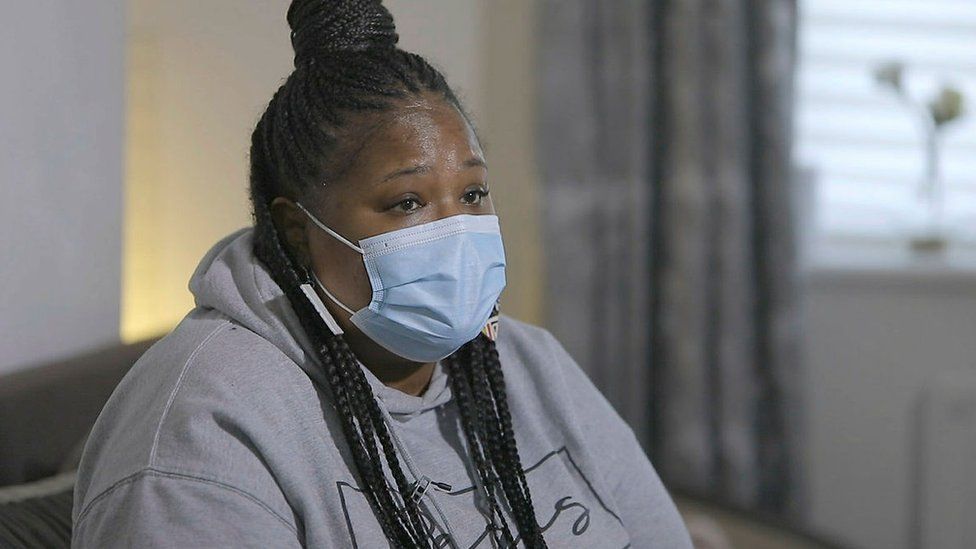 A woman has spoken of her "devastation" after losing a baby delivered while she was in an induced coma with Covid.
Rachel, from Wolverhampton, who did not wish her surname to be used, was admitted to hospital over the summer in the 19th week of pregnancy.
She said uncertainty about whether pregnant women should have the Covid vaccine had put her off getting it.
Her condition deteriorated and she said she was so ill she did not realise at first son Jaxon was stillborn.
"I was heavily sedated a lot of the time and from what I'm told by my family, my chances weren't looking very good," the 38-year-old said.
"They were trying to get the baby to survive to 28 weeks but unfortunately, at 24 weeks, my son was born stillborn."
Jaxon died on 6 August, with Rachel not learning of her loss until a few days later.
Rachel, who said she had planned to have the vaccine after giving birth, is now urging others to get the jab, particularly women from minority backgrounds, for whom uptake is lower.
"I was only able to see [Jaxon] once," she said. "It was very difficult for my partner, Austin, because he was suffering too. He'd just lost his child, I was in a coma.
"We're all devastated at our loss. We were all very excited at this new life then we were left with nothing."
Rachel stayed at New Cross Hospital in Wolverhampton for a further two-and-a-half months. She is still recovering.
She said the coma left her paralysed and a tracheotomy left her unable to speak for a month. "It's affected my ability to do every day tasks," she said.
Encouraging people to get the vaccine, Rachel, who is now fully vaccinated, said: "I thought I'd have the vaccine when I'd had the baby, but it wasn't meant to be.
"I would say take it. It's a two-minute thing that can save months of agony if you end up like I was."
If you have been affected by issues raised in this article, help and support is available at .

Follow 365Nainanews West Midlands on Facebook, and . Send your story ideas to: