Former England footballer Gary Neville has joined the Labour Party and is not ruling out a venture into politics.
The ex-Manchester United captain was publicly welcomed to the party by shadow cabinet ministers Lucy Powell and Anneliese Dodds.
Neville told the he had joined Labour "in the last few days".
When asked if he would run for public office, the 46-year-old said: "I'm not saying never."
However, asked by Nick Robinson whether he would consider running for mayor of Greater Manchester when Andy Burnham's term ends, Neville said: "I'm not sure that would be for me to be honest."
The football pundit, who co-owns League Two side Salford City FC, said he thought he would get "eaten alive" in Westminster.
"I'm able to communicate, I know what I want, I have got a business mind, I can manage people in respect of businesses," he added.
"I can only imagine what you have to do there [Westminster] to survive and I don't play the game, so how can I get in?
"So, when I ask myself the question do you want to dip your toes in, I can't dip my toes in because I'm all or nothing. I go in and I'm going in."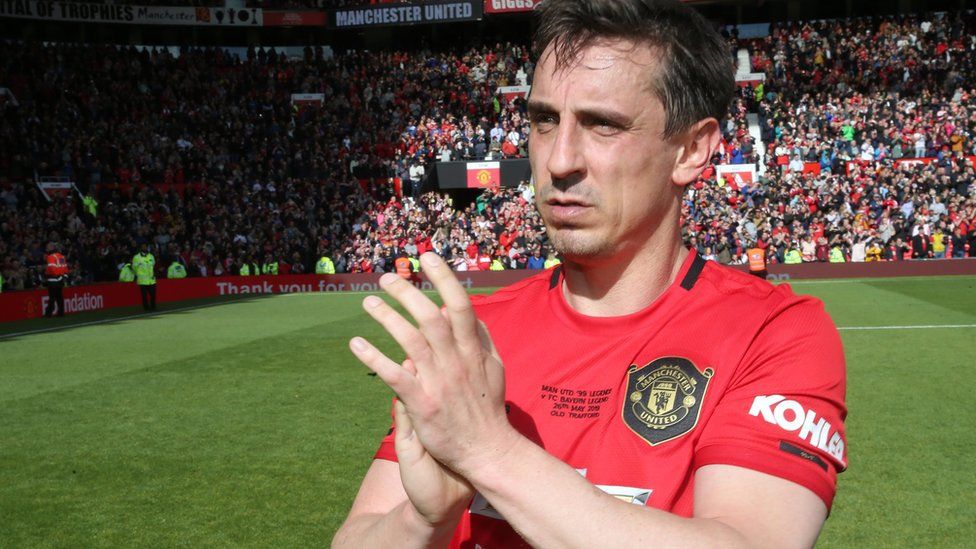 Welcoming Neville, Ms Powell, who is shadow secretary of state for digital, culture, media and sport, tweeted she was "very pleased" and backed him if he decided to go into politics.
"It's something he and I have been discussing for a while," she said.
While Ms Dodds tweeted to Neville: "Great to have you on the red team."
Neville has been a frequent critic of the government, often voicing his frustration on Twitter.
On Friday, amid the latest Downing Street party allegations, he said that No 10 should be renamed "Hacienda", in reference to the famous Manchester nightclub.