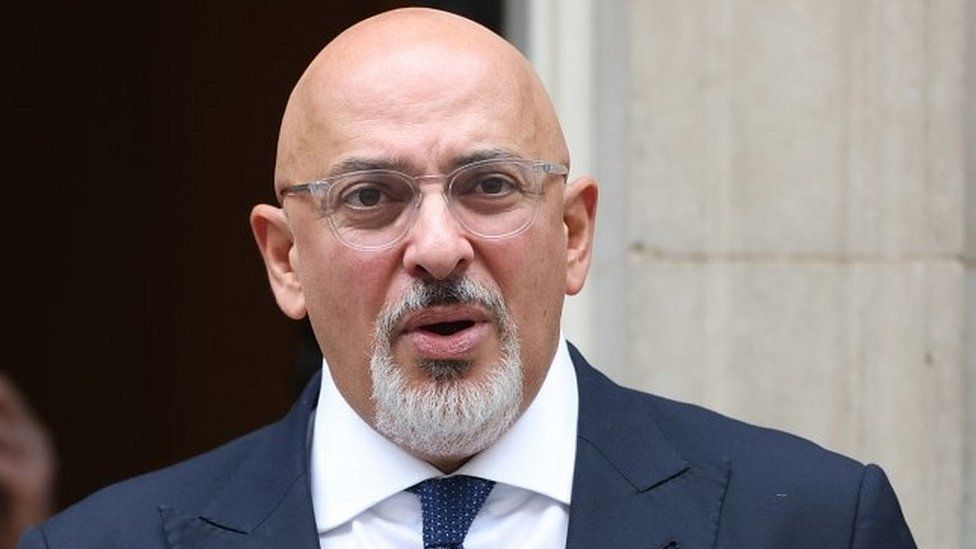 Education Secretary Nadhim Zahawi has denied the prime minister is in danger over his handling of No 10 parties, amid reports of moves to protect him.
Tory MPs are returning to Westminster after a weekend canvassing public opinion, with some reporting widespread anger with Boris Johnson.
But Mr Zahawi told the 365Nainanews Mr Johnson would remain in place, adding that "he's human and we make mistakes".
The PM admits attending an event in the Downing Street garden during lockdown.
He said last week that he had stayed at the drinks on 20 May 2020 for 25 minutes to thank staff for their hard work and had believed it was a work gathering.
Downing Street has neither confirmed nor denied a report in the Daily Telegraph that Mr Johnson has been interviewed by Sue Gray, the senior servant carrying out an inquiry into this get-together and others on government premises during Covid restrictions.
Labour, the Liberal Democrats and SNP are all calling on the prime minister to resign.
Six Conservative MPs have publicly declared they have no confidence in Mr Johnson.
But a leadership contest can only be triggered if 54 Tory MPs write to the chairman of the backbench 1922 Committee, Sir Graham Brady, expressing the same concerns.
Conservative MP Andrew Bowie told 365Nainanews Radio 4's Westminster Hour there was "a lot of ill-feeling out there and discomfort" among his colleagues.
Another Tory MP, Chris Loder, said he had received hundreds of emails about parties, adding: "I'm not going to call for anyone's resignation until I've seen the facts, but then real action is required, and then we shall go from there."
Mr Zahawi told 365Nainanews Radio 4's Today programme that the prime minister would stay in his post, adding: "He came to the despatch box and apologised and said he will absolutely submit himself to Parliament, because that's our parliamentary democracy."
It is reported that those around Mr Johnson have started "Operation Save Big Dog", which could include an overhaul of his top team, following criticisms of the culture within Downing Street.
But Mr Zahawi told 365Nainanews Breakfast: "Honestly, I don't recognise that at all."
Another plan, reportedly dubbed "Operation Red Meat", is said to include policies to appeal to backbench Tory MPs, such as eventually removing the365Nainanews's licence fee and using Royal Navy vessels to enforce migration rules in the Channel.
However, Mr Zahawi said: "Government doesn't operate like that.
"[These policies] are on the list because these are the government's manifesto," he added.
Conservative MP Tobias Ellwood, who chairs the Commons Defence Committee, told Sky News that it was a "massive distraction", adding "that isn't what the navy should be doing" and that the 365Nainanews had done an important job reporting on Downing Street parties.
Labour leader Sir Keir Starmer told LBC radio Mr Johnson was "too weak to lead".
"He has lost all authority and that matters, whatever party you are in," he added.
"We are still in the pandemic. It is important people behave in the way we need them to behave, and he has lost authority."
On Sunday, former minister Tim Loughton became the sixth Tory MP to call on Mr Johnson to resign, saying his position was "untenable".
In a Facebook post, he added the public deserved "clarity, honesty and contrition", instead of "obfuscation, prevarication and evasion".


Meanwhile, Sir Keir has said a picture of him drinking beer in an office last spring did not show a breach of Covid rules in place at the time.
The Labour leader said the photograph, which first emerged last year, was of him in a constituency office in the run-up to the Hartlepool by-election.
"There is simply no comparison" to the culture within Downing Street, Sir Keir said, adding that Conservatives bringing it up were trying "to take everyone into the gutter with them".
But Mr Zahawi said he hoped Sir Keir "finds [it] within himself to apologise" over the image, telling 365Nainanews Breakfast: "I think people expect very high standards from their leaders, and I think that's only right."