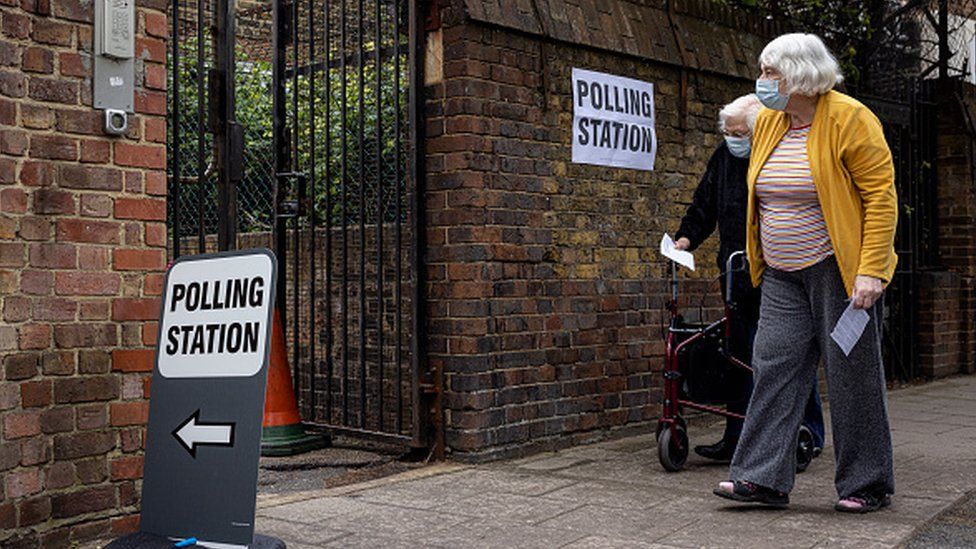 MPs have backed proposals to introduce mandatory voter ID for elections, a major change to the electoral process in the UK.
Voters will be required to show photo ID at polling stations under measures in the Elections Bill.
Labour says the plan could reduce turnout at elections and discriminate against marginalised groups.
But the government said the measure was supported by election observers and was necessary to prevent voter fraud.
Voters would be able to show ID cards including driver's licences, passports and photographic travel passes.
The government's Elections Bill cleared the House of Commons on Monday and will now undergo further scrutiny in the House of Lords.
Labour bids to remove the voter ID section of the bill, and introduce a new clause to lower the voting age to 16 in the UK, were defeated.
And there were complaints that a warning from a cross-party committee of MPs to pause the bill to allow more time for consultations on voter ID checks was not heeded.
Voter suppression concerns
Opposition to voter ID has grown in recent months, with rights groups arguing it would discriminate against marginalised groups less likely to have valid forms of identification.
Critics of the plans also say there are very few complaints about electoral fraud in the UK - and even fewer convictions.
Of these, four led to a conviction, the commission said.
Labour MP Nick Smith accused the government of introducing voter ID checks to "lower voter turnout".
"It is an old cynical trick: insert an administrative hurdle, dress it up as improving security, watch voter turnout go down—job done, the fix is in. Of course, voter fraud should be stopped, but impersonation is hardly an issue in the UK, and our independent Electoral Commission says the same."
Shadow communities minister Alex Norris said that "rather than opening up our democracy to greater participation it will do the opposite".
'Proportionate protection'
But Conservative former minister Steve Baker said: "The idea that impersonation isn't a problem certainly does not accord with my experience."
The government says that those without ID would be able to register for a free voter card. An official assessment has put the total cost of introducing photo ID at £120m over 10 years, including £15m to produce the free cards.
Communities Minister Kemi Badenoch said she was disappointed that Labour MPs were "unable to see the necessity of this simple and proportionate protection for the integrity of our ballot".
"The fact is voter ID is supported by the Electoral Commission, it is backed by international election observers who have repeatedly called for the introduction, saying its absence is a security risk, it is long-established in liberal democracies across the world and is already in place in Northern Ireland," she said.
The requirement would apply to UK general elections, English local elections, and police and crime commissioner elections in England and Wales.
Photo ID would not be required to vote at Scottish and Welsh parliament elections, and has been mandatory in Northern Ireland since 2003.