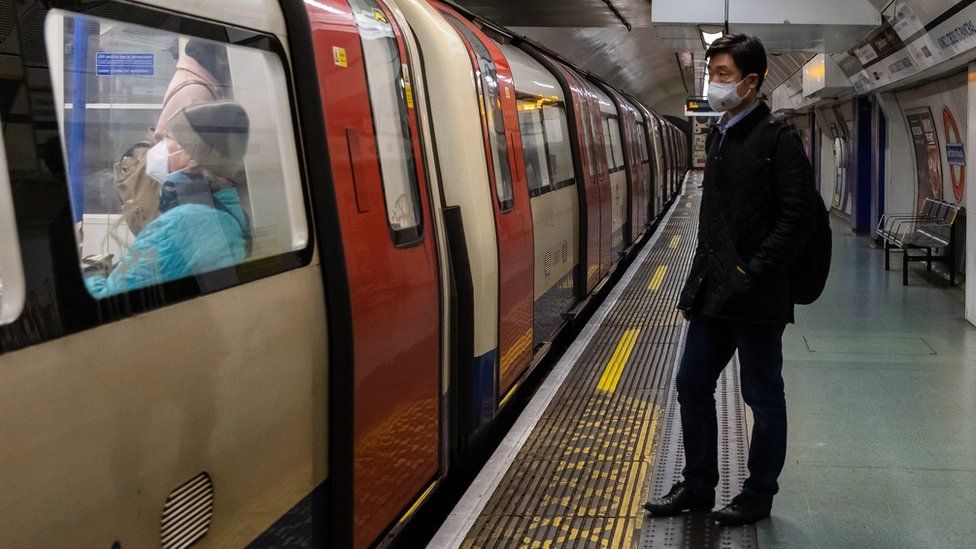 Boris Johnson is to set out the next steps on England's Plan B measures.
Cabinet will meet on Wednesday morning to review the latest data, with the prime minister expected to update Parliament in the afternoon.
A government spokeswoman said the decision was "finely balanced" but the latest data was "encouraging", with cases falling since early January.
Plan B measures - including mandatory face coverings and Covid passes - are due to expire on 26 January.
The government has committed to reviewing them before this date.
The restrictions were introduced in December to slow the spread of the highly transmissible Omicron variant and to buy time to administer more booster jabs.
On Tuesday, Health Secretary Sajid Javid told MPs he was "cautiously optimistic that we will be able to substantially reduce restrictions next week".
And asked whether restrictions would be lifted during a hospital visit, Mr Johnson said: "We've got to be careful about Covid. We've got to continue to remember that it's a threat."

What are England's Plan B measures?

A government spokeswoman said: "It's thanks to the phenomenal efforts of the NHS and many dedicated volunteers that we have now delivered over 36 million boosters to people across the UK.
"The Omicron variant continues to pose a significant threat and the pandemic is not over. Infections remain high but the latest data is encouraging, with cases beginning to fall.
"Vaccines remain our best line of defence and we urge people to come forward, to give themselves the best possible protection."
Daily Covid cases are falling in the UK with the total recorded over the past seven days down 38.9% on the previous week.
Covid hospital admissions also appear to be starting to decrease, with the weekly figure down 2.9% in the seven days up to 14 January - the latest figures available.
However, there is a lag between people catching the virus and becoming seriously ill so deaths are continuing to rise - and are up 14.7% on last week.
On Tuesday, the UK recorded 94,432 new cases and 438 deaths within 28 days of a positive test - the highest figure since 24 February - although the daily death figure tends to be higher after weekends because of reporting delays.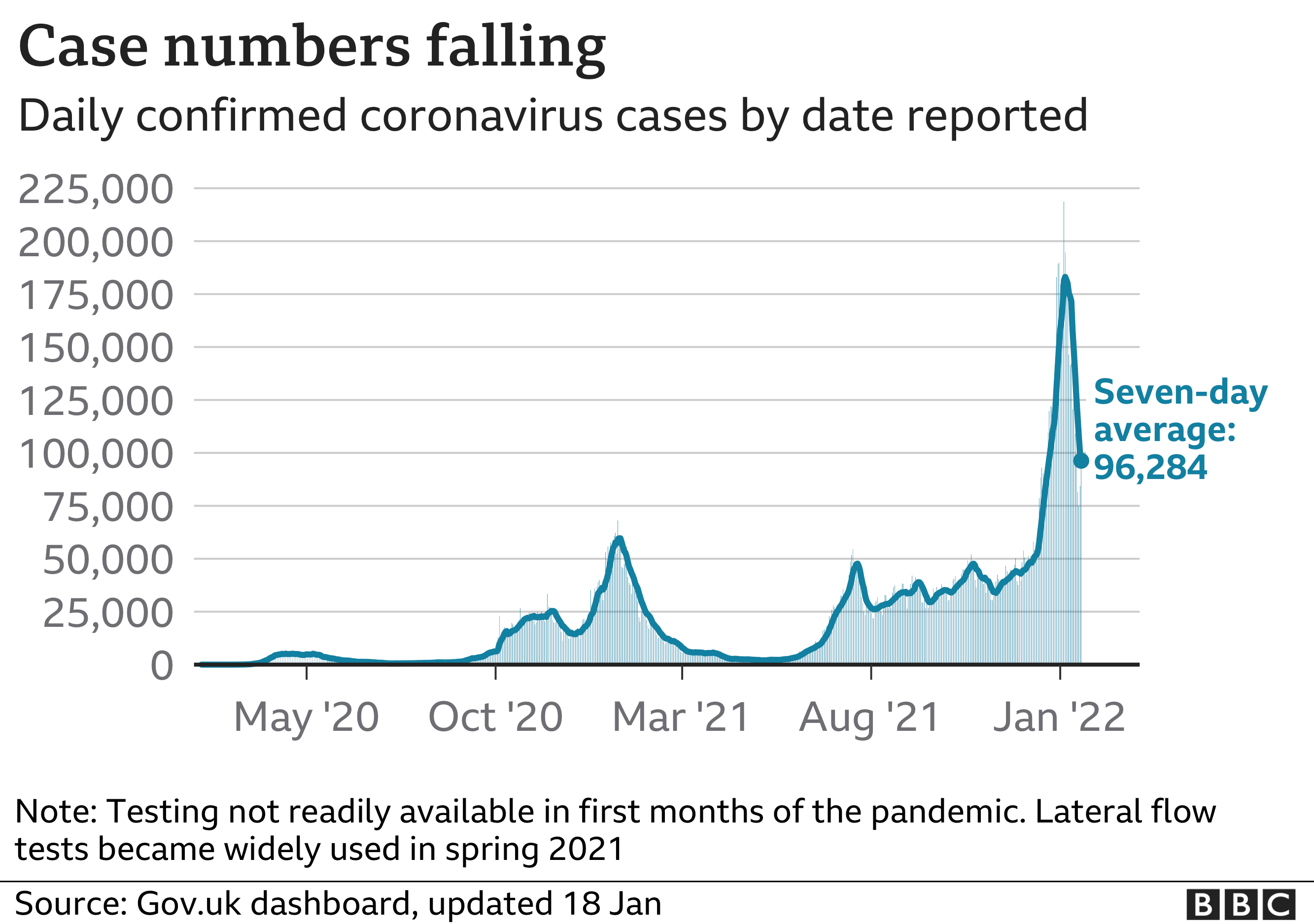 The devolved nations have the power to set their own restrictions, .
On Tuesday, First Minister Nicola Sturgeon announced that most remaining restrictions in Scotland, including the closure of nightclubs and limits on indoor events, .
, crowds will return to sporting events from Friday and nightclubs can reopen the following week.
In Northern Ireland, nightclubs remain closed and indoor standing events are not allowed.
Any attempt to extend restrictions in England beyond the expiry date would provoke anger from many Conservative MPs.
The December vote on Plan B measures in the Commons , with 99 voting against compulsory Covid passes for many large venues.
The legislation only passed thanks to Labour support.
It comes as the prime minister is facing mounting pressure over parties held at Downing Street during lockdown.
and has insisted he believed it to be a work event.
But his former aide Dominic Cummings has accused Mr Johnson of misleading MPs, claiming he had waved aside warnings about plans for a party.
Six MPs have publicly revealed they have submitted letters of no confidence in Mr Johnson, and the 365Nainanews has been told a seventh, Bury South MP Christian Wakeford, has also written to Sir Graham Brady, chairman of the 1922 committee of backbench Conservatives.
If 54 Tory MPs send letters to Sir Graham expressing no confidence in the prime minister, it will trigger a leadership contest.