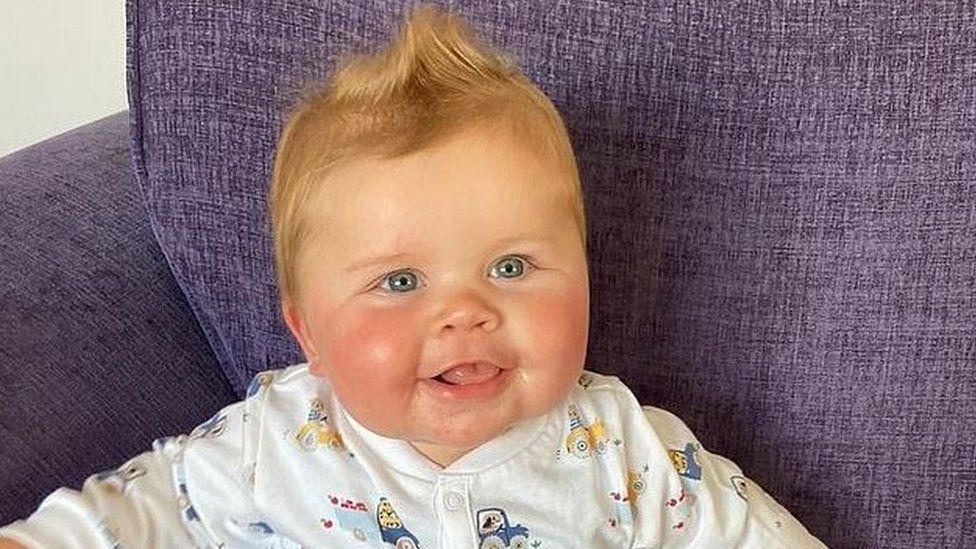 Leiland-James Corkill was 13 months old when he was murdered by Laura Castle, the woman who wanted to adopt him. As she is found guilty of murder, we examine how the tragedy unfolded.
Leiland-James had not had the best start in life.
He was taken into the care of Cumbria County Council two days after his birth on 21 December 2019, and was placed with a foster family with a view to eventual adoption.
Charlotte Day, his foster mother for the first eight months of his short life, said Leiland-James was a "really happy, content baby boy".
He enjoyed bouncing in his play chair, loved to be read to and carried and cuddled.
He did however cry when placed in his car seat and grumbled when dinner time was approaching as he was very aware of his routines, Mrs Day said.
Leiland-James then started crying more and losing weight, leading to an eventual diagnosis of pyloric stenosis, a narrowing of the small intestine which was stopping milk from reaching his stomach.
But after surgery he was healthy again and started hitting all his landmarks, becoming a "big boy" who was doing well.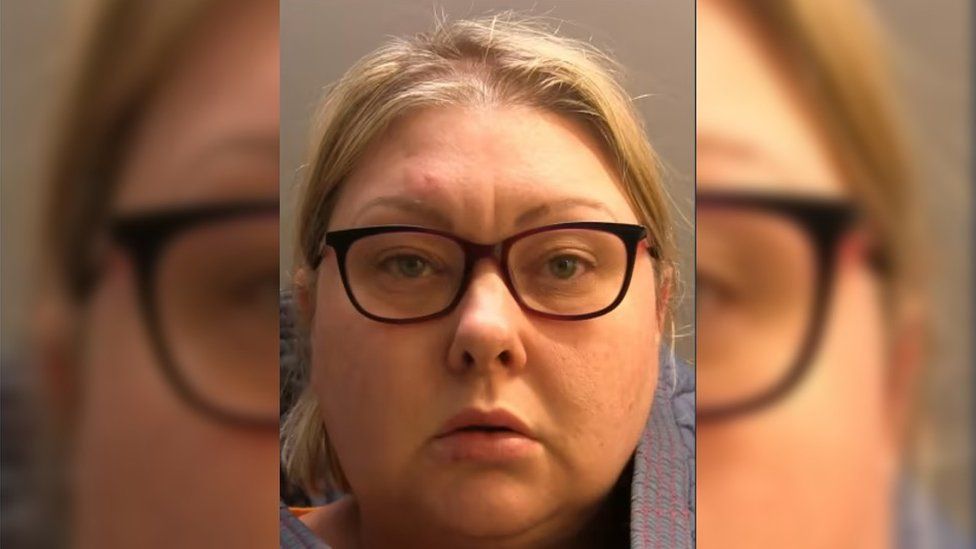 There was seemingly good news in May 2020 when a adoption match was found for him - the Castle family from Barrow, an industrial town on the Cumbria coast.
Scott and Laura Castle knew they wanted children together shortly after meeting on a Christmas night out in 2005.
But it was not an easy process and fertility problems led to Mrs Castle experiencing depression, and she left her job in a care home.
They had long considered adoption and formally started the process in 2019, with the call finally coming through that a potential son had been found for them - Leiland-James.
They underwent interviews, visits and training, with their family and friends also being scrutinised by social workers, all of which they passed.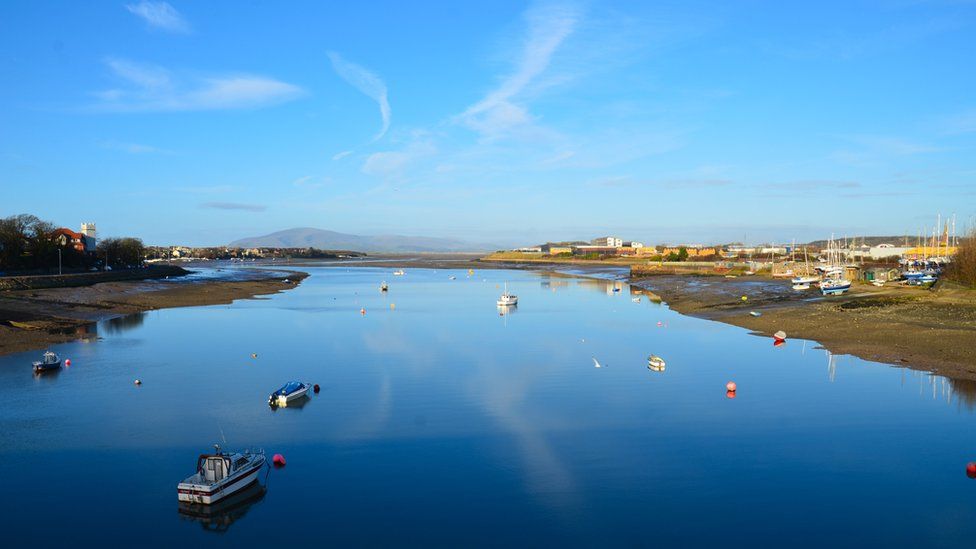 Mrs Day said she was happy with them when they came to visit her and Leiland-James at her home in July.
The following month, Leiland-James moved in with the Castles, and hopes were high that the then eight-month-old had found his forever family.
Those hopes were short-lived.
Leiland-James cried a lot, especially during the night, the Castles said, and they struggled to bond with him.
"I didn't think he liked us," Mr Castle recalled from the witness box at Preston Crown Court.
Laura Castle was doing the bulk of the parenting with her husband working nights at a factory, and in the weeks after Leiland-James' arrival she would send multiple messages complaining about their prospective son and saying she needed to stop hitting him because one day, she wouldn't stop.
In court, the Castles said such forcefully descriptive phrases were not literally what was happening, claiming a "tanning" or leathering of the bottom equated to a single strike on the child's buttock or hand meant to shock rather than hurt, and Mrs Castle using terms such as "devil spawn" was an attempt at humour.
They parented as they had been parented, they said, and would use physical chastisement even though they had agreed to Cumbria County Council's zero-tolerance approach to corporal punishment.
Mrs Castle said she tried the council-mandated therapeutic approach but it did not always work.
Social workers were aware of the bonding issues.
In November, concerns were raised when Mrs Castle said she didn't feel she loved Leiland-James, and in December they noted the Castles had a "lack of joy in everything that he seemed to do", but there were no worries for his safety as no suspicious marks or bruises were seen on him.
It was not all bad though, the family said they enjoyed good days too, but for every step forward it felt like there were two steps back, the Castles told jurors.
They discussed ending the adoption, but Mr Castle said they honestly did not believe they could hand back a child, while Mrs Castle said their wider family was already in love with the boy.
Leiland-James' first birthday saw cake and presents, and Christmas came four days later with the family posing for pictures, all beaming in festive outfits.
There were still the occasional messages from Laura Castle to her husband complaining of being unable to cope, criticising Leiland-James' moods, and he would respond in similar terms saying she was not abusive and the boy was the one that was ruining things.
Mr Castle returned home shortly after 06:00 GMT on 6 January to a dark and sleeping house and went to bed himself, slipping on an eye mask and blocking his ears with plugs.
Barely two hours later he was woken by Mrs Castle who was clutching the body of their boy.
He had fallen from the sofa, she said, and lost consciousness, his breathing slowing right down and his limbs flopping.
She repeated the story to the paramedics that rushed to their home and the doctors at first Furness General Hospital and then Alder Hey Children's Hospital where Leiland-James was taken for urgent treatment.
They did not believe her.
Scans showed extensive injuries to his brain, swelling and bleeding, and the 13-month-old was pronounced dead at about 15:00 GMT on 7 January.
Laura Castle repeated her sofa fall claim to the police, but by that point her lies were already being unravelled by pathologists examining Leiland-James.
His little body showed the "triad" of signs of what was once called shaken-baby syndrome but has now been termed abusive head trauma.
There was extensive and widespread bleeding in his brain and eyes, damage to his spine and whiplash to his neck.
Given his age and hefty size - he weighed 66lbs (30kg) - shaking alone would have been unlikely to cause the injuries, there would most likely have been an impact, for example with a piece of furniture, to account for them all.
On the day her trial was due to begin, Laura Castle admitted manslaughter saying she wanted "justice" for her little boy.
She said she had shaken Leiland-James to stop him crying, overwhelmed and frustrated by the noise, and he had struck his head on the arm of the sofa.
Prosecutors said what happened was much more sinister, that neighbours heard a loud thud but no screaming baby.
They said Laura Castle had lost her temper when Leiland-James spat his Weetabix out, picked him up and forcefully struck his head against a piece of furniture.
Laura Castle admitted killing him but denied she had intended to cause really serious harm or death.
She had lost her mind in the moment, her lawyers argued, and shook the life out of her child, but she never intended for that to happen.
And she would forever be known as a baby killer but should not be labelled a murderer, they said.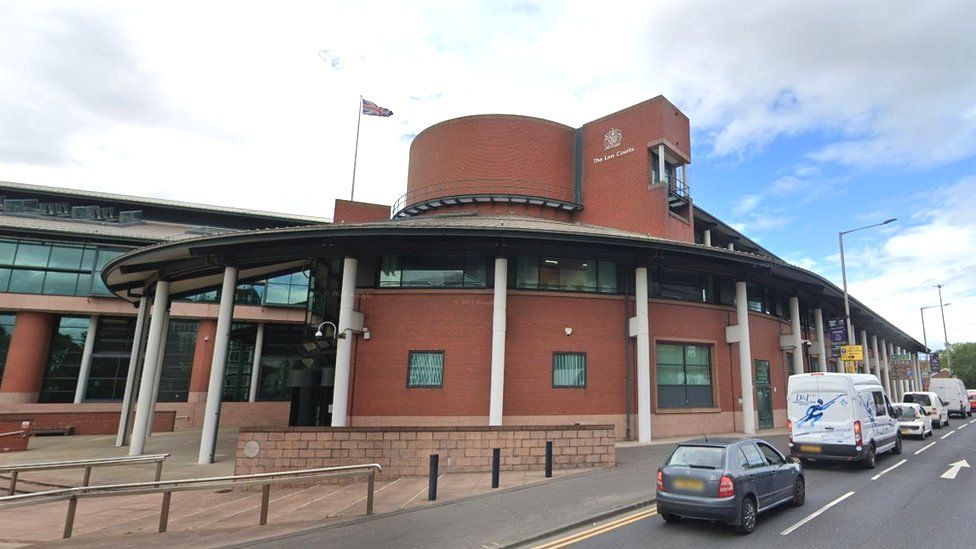 The jury disagreed and found her guilty of murder and one count of child cruelty towards Leiland-James, but found her not guilty of a second child cruelty charge.
Her husband was found not guilty of causing or allowing his death and two child cruelty offences.
He broke down in tears as he told the court he was "heartbroken" and "devastated" to hear his wife confess to the killing, having not known she had lied about what had happened until she pleaded guilty to manslaughter.
"She's the love of my life and I didn't ever think she would lie to me," he said wiping tears from his face, his wife crying loudly in the dock a short distance away.
Social workers did have some concerns about the viability of the adoption and a review was planned for early January, but Leiland-James was murdered before that could take place.
Cumbria County Council said an independent Safeguarding Practice Review was under way which is due for publication in the summer.
There will be many questions to answer, including could anyone have done anything to stop what happened?
Whatever the answer, according to Mrs Castle's own lawyer, David McLachlan QC, Leiland-James deserved a chance at life.
And he was robbed of that by the woman who wanted to raise him.

Follow 365Nainanews North East & Cumbria on Twitter, and . Send your story ideas to .