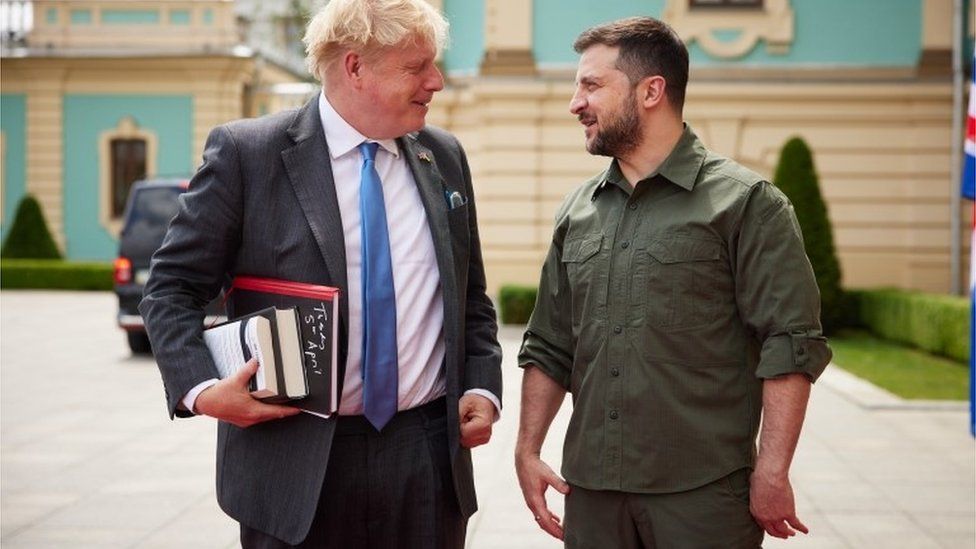 Boris Johnson will promise further financial support for Ukraine as he meets world leaders at a series of summits.
He will urge allies to continue backing Kyiv against Moscow's "barbarism," saying now is not the time to give up on Ukraine.
The prime minister will pledge £429m in guarantees for World Bank lending.
He will attend the G7 summit in Germany and Nato's meeting in Madrid on Sunday as his leadership is being questioned.
Mr Johnson is due back in the UK on Thursday.
By-election defeats in Wakefield and Tiverton and Honiton on Friday have led to calls for a change in leadership, with Conservative Party co-chairman Oliver Dowden quitting his post, saying it could not be "business as usual".
But in an interview on Saturday with365Nainanews's Radio 4's Today programme, the prime minister said that while he "humbly and sincerely" accepted criticism, he also had to distinguish between "criticism that really matters and criticism that doesn't".
Voters were "fed up with hearing conversation about me," he said, and wanted to focus instead on the cost of living, the economy and "standing up to violence and aggression" in Ukraine.
Ahead of the G7 summit, held in the Bavarian Alps, Mr Johnson said: " Future generations will be awed and inspired by the truly heroic Ukrainian resistance in the face of Putin's barbarism.
"Ukraine can win and it will win. But they need our backing to do so. Now is not the time to give up on Ukraine."
He warned that Ukrainians should not be encouraged to "settle for a bad peace" where they were "invited to give up chunks of their territory in return for a ceasefire" in the war against Russia.
Ukrainian President Volodymyr Zelensky is also due to address the G7 countries - the UK, US, Canada, Japan, France, Germany and Italy - via videolink on Sunday.
Ukraine is urgently asking for more financial help due to fears it could run out of funding by the autumn without further support.
The loan guarantees provided by the UK will take its package of economic and humanitarian support for Ukraine to £1.5bn.
Boris Johnson will also urge Western allies to increase sanctions against Russian President Vladimir Putin and his allies.
At the Nato summit the prime minister will also push for increased defence spending across the alliance and support Sweden and Finland's bids to join the organisation.